Home Church Model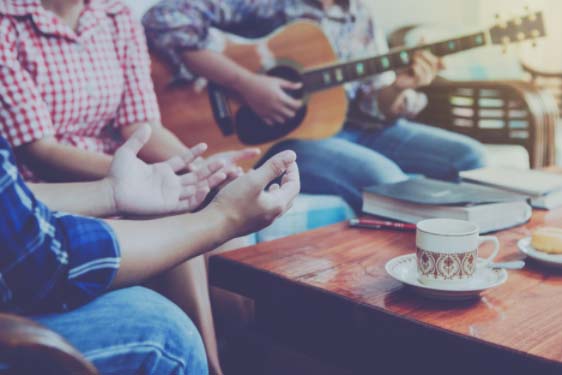 ពុំ​មានការ​បកប្រែ។
The Home Church Online (HCO) resources are specifically created to meet the needs of a particular church design or model. This model is defined as a very small, yet complete and autonomous church that normally meets in a home. Each church consists of the number of people that will fit into the meeting space. It will usually be led by laypersons. A typical home church will seldom find itself led or even accompanied by a theologically trained pastor or leader. Various groups and writers today popularly refer to one form or another of this church model as a house, home, simple, or micro church. We prefer "home" church.
The global acceptance of this form of church is evidenced by the fact that in 2005 over 52 million direct references to this model of church are documented on the Internet by Google. Five years ago, the terms home or house church were not even in Google. The growth of home churches today has no known parallel in history since Biblical days. Yet, we strongly believe that the home church is only one model of many that God will use for the benefit of His Kingdom. It is not a model that satisfies the needs of everyone. Like other models of church life, it has its advantages and disadvantages.
Because of the nature of this kind of church, it may and usually does consist of all kinds and ages of people—even within a very small congregation. This makeup fosters very real and close family relationships between members. They may or may not use the terms—but aunt and uncle, grandparent, and sibling relationships rapidly grow to encompass such a congregation, who may have had little in common when they first came together.
Outreach will mostly be by word of mouth—generated among friends, co-workers, and other acquaintances, in casual conversations. Sometimes it will be through various kinds of community promotion. Recently, the huge number of Internet websites dedicated to "home", "house", "micro", or "simple" churches and church networks—are beginning to show an increase in the rate of new home churches that are being planted—especially across North America. In many countries around the world, of course, the private or even secretly based home church provides the only means of Christian worship as we know it.
The HCO resources are designed with the assumption that the church using them will remain a home church and will grow by reproducing new home churches. However, the materials allow for the understanding that any autonomous church may choose to grow by developing into a different church model in the future by choice, need, or in whatever way God leads.
One of the foci of the home-based church is to train its members in such a way that when God provides the opportunity, one or more of its family units will be sent out to begin another home church, thereby growing by reproduction. It is rather unique among church models as its goal is to send away its best members as soon as possible to begin new home churches. As they reproduce, these churches may have enough in common to form networks and to co-operate together in training, ministry, fellowship, etc. However, each church remains complete and autonomous within its own congregation. Therefore, these churches do not function as "cell-groups" or "home-groups" within a centralized cell church, or as "home Bible study fellowships" within a more traditionally organized church.
Today, the majority of home-based churches begin with the understanding that they will function from the start as a complete and autonomous church. Some may begin as a "mission" of another church and under its authority and supervision. However, such an arrangement is seen less today than in previous times.
Each home church is a unique, autonomous, self-governing body of Christ. The home church is small and therefore simple in design and structure; yet, each is a complete church. Each will exercise all the functions of a church, including the ordinances of baptism and the Lord's Supper. Each will choose how to receive and disburse tithes and offerings. Each will organize and function as a church by making decisions regarding status before secular governments and cooperation with other religious bodies. Under the guidance of the Holy Spirit, each will determine its own future.
Worship Concept
ពុំ​មានការ​បកប្រែ។
Normally, evangelical churches divide our worship with our fellow believers into several experiences. We will have our principal gathering for prayer during the week, along with much of our fellowship and missions' education. We accomplish ministry on weekends, in summer months, and through special events. On Sunday we experience Bible study, and following that—a corporate worship experience. The worship experience will normally relate to the Bible study only on four or five special days such as Christmas, Easter, etc., or when we promote a special emphasis. Spiritual growth or discipleship may be gained through special courses on Sunday or other days. This pattern naturally grows out of the availability of buildings, larger congregations, and the resulting organizations and leadership that bring it about. Cell church models may vary some from this norm, but, with their larger congregations and mid-week home groups, will still carry the pattern of multiple experiences for different church functions or tasks.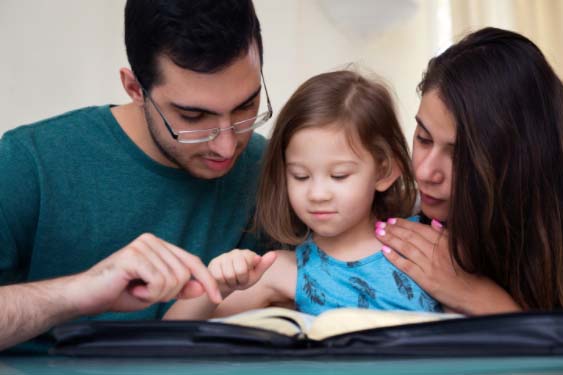 A home-based church may meet for prayer, ministry, or activities, during the week; however, the normal pattern is for much, if not all, of the education and worship expression to take place on Sunday during one session. During that time the five basic functions of the church will seem to flow together into more of a single experience. However, in a "downside" effect, this sometimes results in a loss of balance between worship, proclamation, education, ministry, and fellowship.
Therefore, our Bible Study and Worship Guide for Home Churches attempts to accept the single, unified worship experience of the home-based congregation while, at the same time, offering enough structure to the meeting to help keep the balance intact and to encourage a brief encounter with all five functions.
The small family-type structure of the home church means that, except for special circumstances, it will include everyone present, even babies and small children, within the whole group and in everything they do. Usually in a home church there is no thought of "age-grouped" Bible teaching or worship. Everyone is present for everything that is done. This means devising special activities to help include small children. It means teaching on a broader age scale as the church and designing the teaching to include all age groups. As well, it means teaching parents how to teach their children at home; how to instruct their children in the basics of faith—of discipleship in the area of Bible knowledge, understanding, skills, and wisdom.
Generally, such a close family-type group will also give considerable time to more informal fellowship, meals, play or sharing time, etc., before the day is done. Often, the Lord's Supper, baptisms, and special days—or simply the more flexible nature of the home-church setting will result in potlucks, picnics, prayer walks, etc. These times may be an add-on to the usual service, or they may change the usual study and worship pattern and include those special elements mentioned above.
Because the HCO resources are undated, it is easy to adapt them to meet the needs of the church in worship and study content, as well as in church goals and flexible scheduling.
HCO Weekly "Bible Study and Worship Guide" Design
ពុំ​មានការ​បកប្រែ។
Because of the above, we have designed the Guide to lead the congregation in three integrated parts of study and worship:
First, a brief Gathering Time introduces the theme and scripture, and calls the congregation to consider it. Often, these first moments offer the opportunity to discuss the needs of the church and to pray for those needs.
Then, the Bible Study Time helps the group to understand what God has to say about the theme through His Word.
Finally, in the Worship Time, the congregation is called to present themselves before God in singing, praying, offerings, and in considering their call to missions and ministry—and then a call to commitment to what God desires of them as individuals and as a church in regard to the theme and Bible study for that week.
Because the home church usually involves everyone and all ages in everything it does, most congregations want the entire guided service to conclude in about one and a half hours:
1) Gathering Time: 12 to 15 minutes (includes a prayer time, a look at group needs, etc.)
2) Bible Study Time: 35 minutes
3) Worship Time: 35 minutes
Each congregation will determine the time given to each part of the meeting according to their needs—but the materials are designed to generally follow the above suggestions.
After the service, the joy of fellowship and discussion, while enjoying snacks, lunch, or whatever, often considerably extends the time together.